Natalie Bayfield, Senior Departmental Fellow, University of Cambridge
Smart Cities are all the rage. Cambridge leads the world in the collaborative technology and expertise helping to move the field forward. Dr Ian Lewis's deep enthusiasm for programming adaptive mechanisms for various city functions certainly made an impact at the Department of Land Economy professional practice seminar last night (25th October 2017)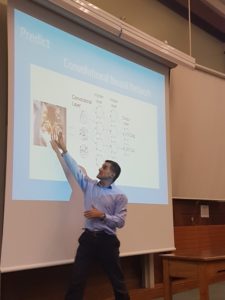 Dr Ian Lewis at the Department of Land Economy 25th October 2017
Dr Lewis is Director of Infrastructure Investment at the Department of Computer Science and Technology at the University of Cambridge. Dr Lewis is also part of the team at the Centre for Science and Policy (CSaP). The Centre's purpose is to bring together public policy professionals and academics so that they can learn from one another.
Traditionally, states Lewis, public policy applied to cities are interventionist. Historical data helps us to understand patterns but by the time this feeds through to policy, the intervention (a bridge, re-routing roads etc.) might be too late. Continual real time monitoring on the other hand can make existing infrastructure more efficient and give us a better understanding of what is required from longer term city adaptations. The challenges are the processing of, and real time access of, this data.
One of the many projects that Lewis is working on is the location of buses at any one time in Cambridge. The mesmerising live results can be found here: BusMap. Cheap energy efficient sensors are fitted to every bus and layered heatmaps of bus concentrations are created, each representing a moment in time. Deep neural networks will then be employed to spot patterns in thousands of these images.
Lewis said that he is interested in the process and how he can communicate these innovations to others, particularly those in government who can make use of the wealth of knowledge capital here in the UK.
To quote the current Chancellor of the University, Lord Sainsbury:
"By building networks of evidence and expertise for public policy, the Centre for Science and Policy can make a real difference to how government meets the biggest challenges we face today."*
*Retrieved 26th Oct. 2017 http://www.csap.cam.ac.uk/about-csap/