Corporate Social Responsibility
Our Mission
We recognise the urgent need for action, as over 38% of global CO₂ emissions come from the built environment. Our industry has a huge responsibility to drive radical change to prevent global warming.
As an organisation operating in the Real Estate sector, we have the responsibility to act and make sure there is a future for the next generations.
As the world undergoes rapid technological innovation, our Corporate Social Responsibility (CSR) initiatives continuously evolve to adapt to these changes. Our existing initiatives stand to our commitment of working towards a more sustainably future.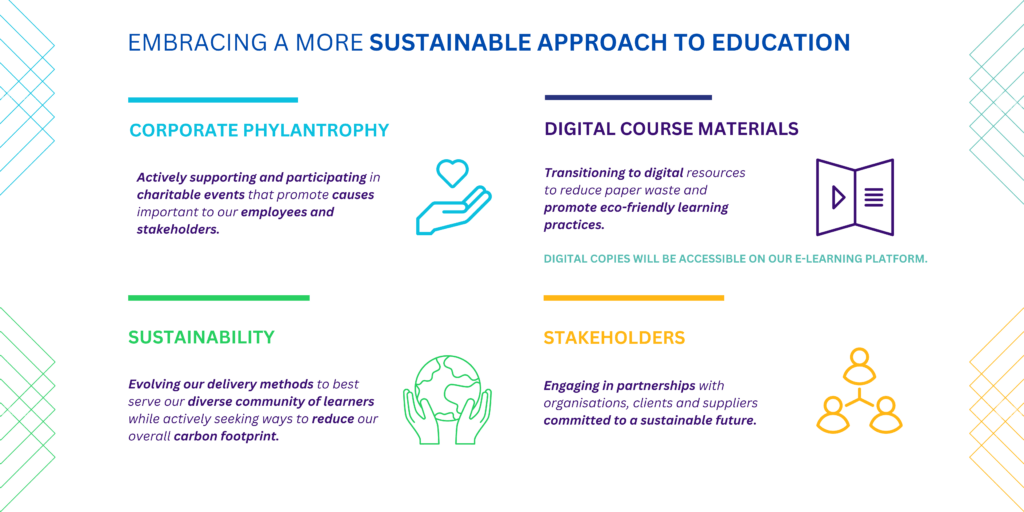 A Sustainable Approach to Education
Digital Learning Materials
Starting from September 2023, we are transitioning to digital resources to reduce paper waste and promote eco-friendly learning practices. By doing so, we aim to embrace a more sustainable approach to education.
Through our e-learning platform, our students will have access to the course content for a period of 12 months. However, we understand that some individuals may prefer to have physical copies. In such cases, we are committed to work with suppliers and partners who adhere to ethical and sustainable practices ensuring that any printing is done in a sustainable manner, minimising the environmental impact.
Furthermore, as part of our ongoing commitment to environmental conservation, we will continue our tree-planting initiatives. By planting trees, we aim to offset the environmental impact associated with any necessary printing and contribute to reforestation efforts.
Digital Learning Materials
Digital Learning Materials
We believe that this transition to digital learning materials and our sustainable printing practices align with our mission to provide quality education while minimising our ecological footprint.
Virtual and Online Training
By offering virtual learning options, we have successfully reduced the travel footprint associated with attending our courses, including the use of cars, underground transportation, and flights.
While we continue to provide face-to-face courses, we have proactively transitioned over 50% of them to virtual delivery. This strategic shift has allowed us to not only increase accessibility for individuals located outside the UK but also significantly minimise the environmental impact associated with travel.
We acknowledge the importance of maintaining a balance between face-to-face interactions and virtual learning opportunities. By embracing virtual delivery, we are able to offer greater flexibility to our students while also considering the sustainability aspect of reducing travel-related emissions.
Virtual & Online Training
Virtual & Online Training
We remain committed to evolving our delivery methods to best serve our diverse community of learners while actively seeking ways to reduce our overall carbon footprint.
Supporting Real Estate Diversity
Diversity Talk Real Estate
Their mission is to further diversity and inclusion in the European built environment industry by raising the visibility of under-represented groups. We believe visibility matters when it comes to tackling under-representation, both to bring about better business opportunities for individuals but also to work towards a diverse and inclusive industry that would best serve the cities and communities in which we work.
The Land Collective
We focus on breaking down difficult concepts into more digestible content to share and engage with young people, to highlight the sector as a viable career option and an important aspect of our society. We are a hub of current students and recent graduates from a range of different cultural and educational backgrounds which include law, construction, politics, economics, and planning.
Environmental & Social Charities
Tree Nation
Our mission is to reforest the world. Planting trees has been proven to be one of the most efficient solutions to fight Climate Change. Thanks to our reforestation and conservation projects we help to restore forests, create jobs, support local communities, and protect biodiversity.
Our mission is to plant 1 trillion trees by 2050
You can find out more on the MASTER PLAN here.
How we work together
Bayfield Training have been working alongside Tree-Nation since April 2022, with our pledge to plant a tree for every student that attends a course.
We have focused our sustainable commitment to the Eden Project in Mozambique. With every student that attends a course with us at Bayfield Training, we are able to help repopulate farmland areas for re-forestation, protect biodiversity and help support the local community involved with the project.
You can see our FOREST here.
Building Positive Relationships
Our Employee's
Bayfield foster a safe and inclusive environment, promoting diversity and equal opportunities. We are committed to supporting employee development and provide opportunities for career progression.
In addition, we believe in the power of communal challenges to enhance both physical and mental well-being. These challenges have proven to be successful in engaging our employees and promoting a healthy work-life balance. We recognise the importance of a holistic approach to well-being and will continue to implement these initiatives.
By prioritising employee well-being, we create an environment where individuals can thrive both personally and professionally.
We understand that the success of our employees directly contributes to the success of our company, and we remain dedicated to their continued growth and happiness.
We also encourage our employees to act whilst they are not working and act in a conscious manner with the community and environment and created engaging challenges to improve their physical and mental wellbeing as well as reducing the carbon footprint.
Our Customers
Bayfield works aligned with organisations which are working towards a more sustainable future.
Our clients work in creating more resilient communities, minimising carbon emissions from their Real Estate, business travel a supply chain and reducing building emissions among others.
At Bayfield, we are committed to leveraging our expertise, resources, and network to support and empower our clients in their sustainability efforts. Together, we can make a significant difference and create a more environmentally conscious and resilient future for generations to come.
Corporate Philanthropy
The Bayfield training team actively participates in charity events using running or other activities to raise funds for various causes. We select causes that align with our employees' interests, such as human rights, animal welfare, and medical research.
We also contribute to reforestation projects to restore vital ecosystems. The project we are involved with also contributes to the economy by offering long-term employment to the communities.
Finally, we extend our support to stakeholders and our local community whenever they fundraise for their respective causes. By supporting the charities our stakeholders are passionate about, we foster a sense of collective responsibility in creating a positive and sustainable future for all.