The Real Estate Analyst course has been taught non-stop to global real estate firms over the last 25 years, and is without doubt the core financial modelling training in your career portfolio. Whether you have an upcoming financial modelling test for a new job or an APC exam, the Real Estate Analyst course is the choice for you.
Create flexible real estate investment focused financial models in Excel. Case studies focus on core, core plus and value add property investments. This course shows you how to model income producing property with both annual and quarterly discounted cash flows, build rent functions, model costs and calculate returns. It also shows you how to interpret and analyse the results.
On this course, you will…
Learn how to structure an investment cash flow from first principles and how to value and appraise property investments
Build annual and quarterly discounted cash flows
Look in depth at modelling tenancy schedules: rent reviews, upward-only, break options, lease expiry
Build OPEX and CAPEX into your cash flow
Analyse risk using sensitivity tables and charts
Employ best practice and find solutions to common modelling problems
Who will benefit from this course?
Real Estate Investors
Surveyors
Portfolio Analysts
Investment Managers
Asset Managers
Real Estate professionals at any level with exposure to real estate financial models on a frequent basis
Mid-level to senior Real Estate Analysts who would like to start building their own real estate models quickly, rather than relying solely on coaching from existing team members
Junior or new Real Estate Analysts who would like to start building their own real estate models quickly, rather than relying solely on coaching from existing team members
APC candidates who would like the opportunity to consolidate their competencies by understanding how theory and variables interact within the precision context of a financial model.
Course Outline
Know how to build a property asset cash flow, analyse geared, and un-geared IRRs.
Term & Reversion and Layer Method Valuation (Intro to Excel)
Equivalent Yield (Solver, Scenario and Goal Seek functions)
Single-Let Discounted Cash Flow
Cash Flow inputs (Rents, Yields, Growth Rates, Target Returns)
Analysis and use of date series
Internal Rate of Return (IRR) and Net Present Value (NPV)
Comparing Value, Price and Worth
Adding borrowing and analysing geared returns
Introducing Rent Reviews and other 'events' into cash flows
The 'Rent Function' concept and Logic functions (IF,OR,AND)
Sensitivity analysis
Know how to build a multi-let property cash flow and apply the concepts on a hypothetical case study.
The 'Rent Function' and Multi-let cash flows
The 'date problem' and assumptions in property asset cash flows
Reducing the rent function, intermediate calculations and modelling theory
Modelling lease expiries, break clauses, voids, and upward only covenants
Incorporating time-varying rental growth rates
Analysing multi-let cash flows to see if the leases are sufficiently diversified
Further IRR analysis (XIRR, MIRR)
Post-Course Support
We complement all our financial modelling courses with two months' learning support, to make sure you will fully benefit from our training.
How does it work?
You can contact us at any time and one of our experts will come back to you within two working days. The expert's time is limited to 10 minutes per inquiry on questions related to the course material only.
International Note
Our Real Estate Analyst course can be delivered internationally. Every market is well researched by our product development team before we deliver the courses. This essential course has been revised to apply to different jurisdictions for financial modelling theory prior to a detailed analysis of the covenants. The following courses cover European or African leases.
Course Details
Pricing – Public Course
In-Person: £1,750 + VAT
Virtual: £1,500 + VAT*
* Hard copy course manual can be bought for an additional fee.
Upcoming Course Dates – Public Course Dates
Number of days: Two days
Course type: Financial Modelling
Course level:


Pre-requisite: Excel Fundamentals for Real Estate Professionals
CPD Hours: 15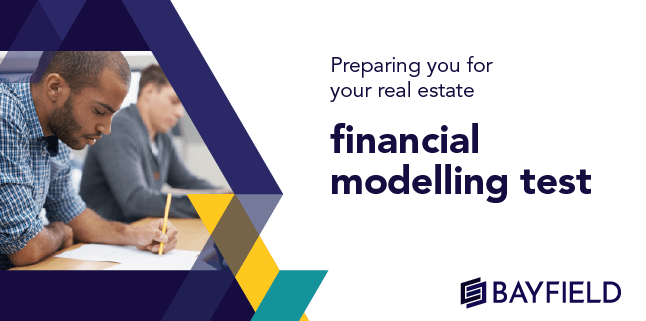 How to Book
Are you currently studying?
Want to know more?
Webinar & Property Bite Videos
Compounding & Discounting cash flows – Property Bites
What does a Real Estate Asset model look like? – Introduction to Financial Modelling